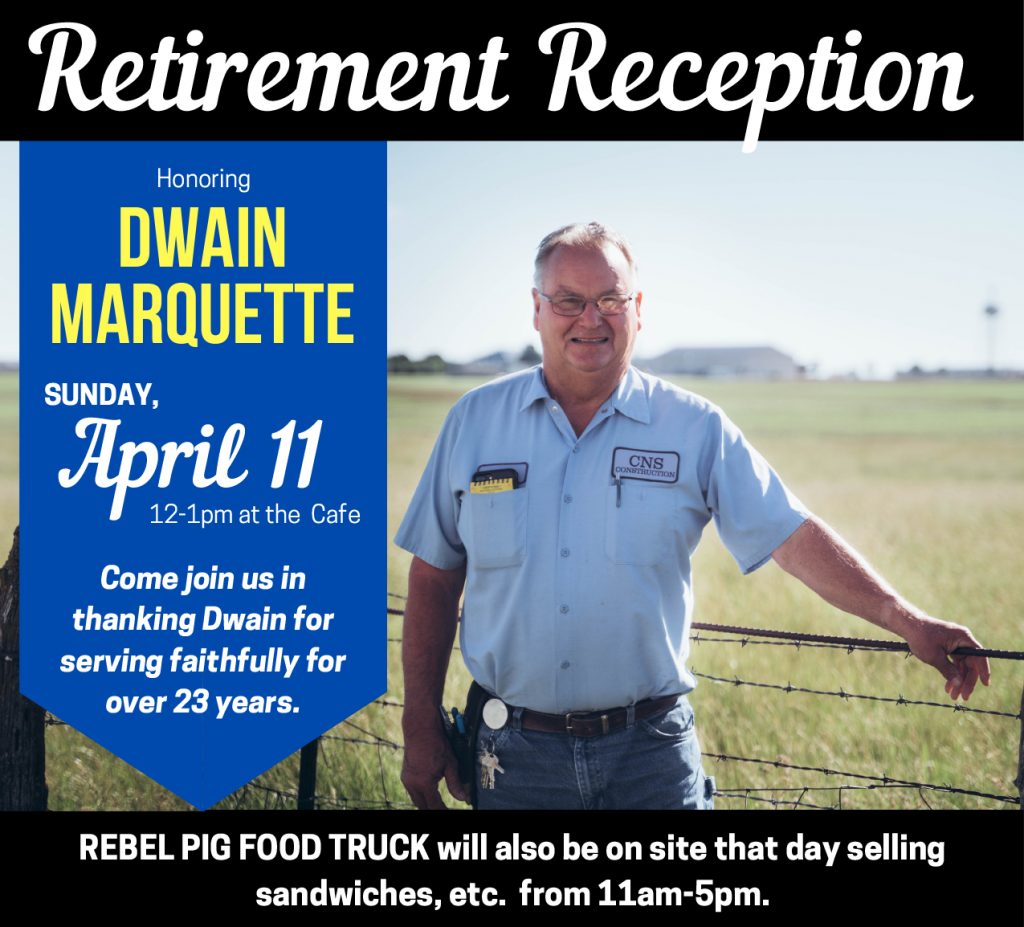 Retirement Reception for Dwain Marquette
Sunday, April 11, 2021
12-1:00pm at the Solid Rock Cafe
(Rebel Pig Food Truck will be on campus that day from 11am to 5pm selling sandwiches, etc.)
Dwain once said, "If someone were to ask if I had gone far in life, I'd have to say I now live just under a half mile from where I grew up, and then Heartland is only about a quarter of a mile further, not far at all. Going far in life, however, is not measured in miles. Jesus never got beyond an area the size of New Jersey."
Dwain joined the Heartland construction crew in the late 1990s when the hog market crashed, leaving farmers like Dwain in a hard spot. He worked alongside John Emerson, who asked Charlie to convince him to stay on in the spring. They worked together until John's death, when Dwain stepped up to lead the crew.
Early on, Dwain started coming to work early to read his Bible before going to the job site. Others began joining him, and a Bible study started among the construction crew. The seeds planted in and through those men will yield a harvest for years to come.
As for the future, Dwain says, "Even when I retire from Heartland, I'll only be half a mile away, and I fully expect to be consulted on at least a few things." He hopes to drop in on the Bible study, too.
We are so grateful for all Dwain has provided at Heartland through these years. It goes far beyond being a good neighbor or providing construction skills. He has built friendships that are centered on Jesus. And those are eternal.