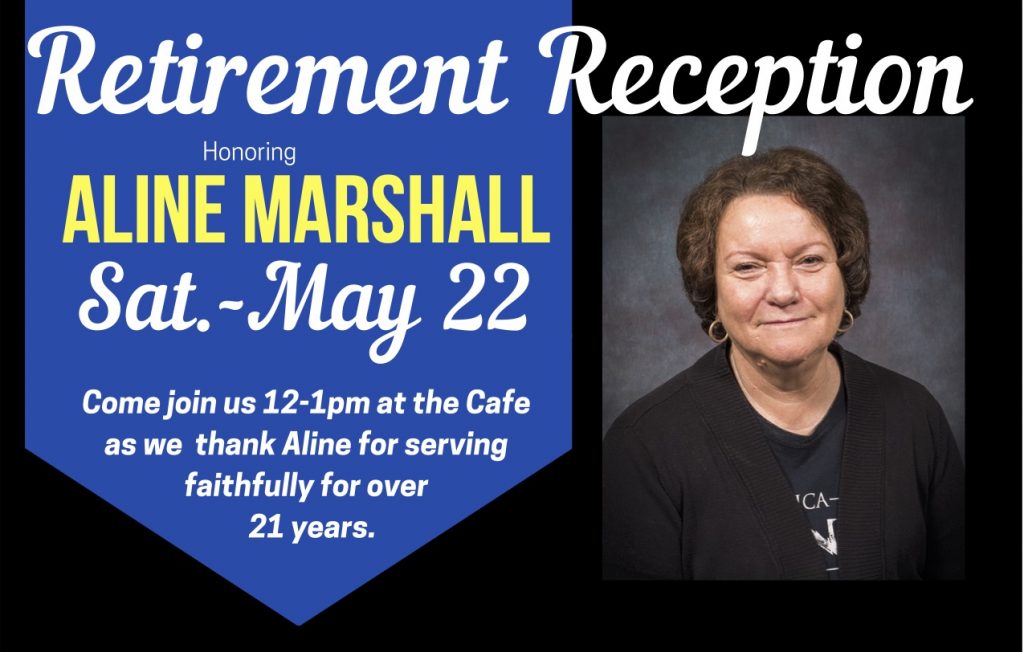 Saturday, May 22, 2021
12-1:00pm at the Cafe
(Rebel Pig Food Truck will be on campus that day from 11am to 5pm selling sandwiches, etc.)
The Heartland Community has been richly blessed by the life, service, and friendship of Mrs. Aline Marshall for more than 21 years. Mrs. Marshall and her husband, Wayne, came to Heartland in February 2000 and soon went to work as group home parents. They spent many years loving and caring for children in the Ozark House. And they persevered during some of Heartland's most difficult days. 
In January of 2007, Mrs. Marshall went to work at Heartland Christian Academy. Countless students have been helped and blessed by her steady manner and patient attitude. Following the death of her husband in 2012, Mrs. Marshall continued to serve in the community, the school, and the church.
When we moved into the new church building, Mrs. Marshall became one of the friendly faces greeting visitors and home folks at the Welcome Desk. She helped make sure the coffee was ready and the rooms were straight. Things a mom would do.
International friends and college students received generous hospitality in her home, and continued prayers and care as they went back out to their mission field.
We will miss Mrs. Marshall deeply when she retires in May of this year. But we are so grateful for the many years we have enjoyed together. We know such friendships are eternal, and distance cannot break them. We pray God's greatest blessings over her life as she moves to be nearer her children.